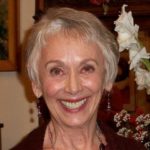 Join us Saturday, June 17, 2017, at 2:00 p.m. at the Four Points by Sheraton, 5115 Hopyard Road, Pleasanton, as Kate Farrell presents "A New Age of Fire: Storytelling & Public Speaking."
Ms. Farrell believes in the power of story and of the story motifs from the oral tradition. Their enduring appeal continues to shape and influence culture.
Farrell edited the anthology, Wisdom Has a Voice: Every Daughter's Memories of Mother. She is co-editor of the anthology, Times They Were A-Changing: Women Remember the 60s & 70s, a finalist for Foreword Reviews 2014 Book of the Year Award and 2014 Indie Excellence Award. She is also co-editor of the anthology, Cry of the Nightbird: Writers Against Domestic Violence, a finalist for the 2015 Next Generation Indie Book Award and the 2015 Indie Excellence Award.