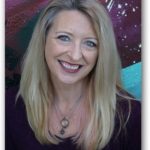 Author Sofia Grant will speak to writers about how to create emotional depth in a novel at our final meeting of the year. This presentation offers an overview of emotion's relationship to plot and character and introduces a variety of ways to add emotional depth. Learn to avoid common pitfalls and create your character's "emotion palette." Take time to nourish your writer's self as the year wraps up. Join us on Saturday, December 16 at 2:00 p.m. at Four Points by Sheraton, 5115 Hopyard Road, Pleasanton. Check-in begins at 1:30 p.m. RSVP by Wednesday, December 13 to Haihong at reservations@trivalleywriters.org.
Called a "writing machine" by the New York Times and a "master storyteller" by the Midwest Book Review, Sofia Grant has written dozens of novels for adults and teens under the name Sophie Littlefield. She has won Anthony and RT Book Awards and been shortlisted for Edgar, Barry, Crimespree, Macavity, and Goodreads Choice Awards. Sofia works from an urban aerie near Oakland, California.
Grant's latest novel, The Dress in the Window (William Morrow, July 2017), explores the lives of three women who break into the fashion industry after the end of WWII. Her upcoming book, The Daisy Children, is about a woman who meets the extended family she never knew and discovers their ties to a long-ago tragedy. This novel is slated for publication in 2018 by William Morrow. For more information about Sofia Grant, visit http://sofiagrant.com.