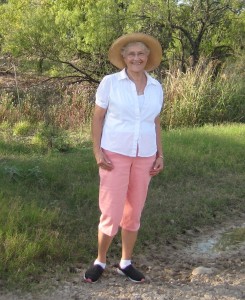 E. Ruth Harder grew up on a farm in Uvalde County Texas and has lived in Livermore, California since October 1965. She spent the majority of her working career at Lawrence Livermore Laboratory as a Technical Information Specialist (TIS). She holds a Masters in Library Science from San Jose State University. After 22 years as a TIS, she retired.
In younger years as a "stay at home Mom," she wrote magazine articles which were published in The Camper Coachman and The Craftsman Magazine. 
Advances in Library Administration and Organization, Vol. 13, 1995 published her article, "Library Automation's Effect on the Interior Design of California Public Libraries." 
She has written numerous puppet scripts that are performed for children at Sunday worship services at Holy Cross Lutheran Church in Livermore.
"California Writers Club, Tri-Valley, with the critique groups and workshops helps me realize my writing gifts and encourage me to pursue my dream of becoming a known writer."