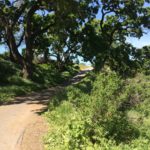 We'll wrap up our summer field trip series at Veteran's Park/Sycamore Grove in Livermore. Veteran's Park is a woodsy environment with easily navigable trails, a native plant garden, a creek and pond. It's an ideal location to work on writing descriptions of natural outdoor settings. The excursion will take place on August 7 from 9:30 a.m. to 11:30 a.m. We'll meet at the Veteran's Park end of the park, at 5211 Arroyo Road, Livermore. Although TVW doesn't charge for the field trips, there is a $7 parking fee (or free with annual permit), so carpooling is encouraged.
Led by student member Tiffany Jing, our summer field trip series provides a chance to get together during the general meeting summer hiatus and write in a variety of outdoor settings. Reservations are recommended. Non-members are welcome, so bring a friend. RSVP to newsletter@trivalleywriters.org for this inspiring trip!
Date: Monday, August 7, 2017
Time: 9:30 a.m. to 11:30 a.m.
Location: Veteran's Park/Sycamore Grove