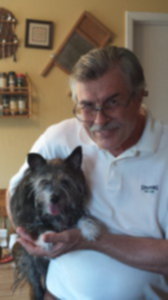 Born in Chicago, John Bluck earned a B.S. in Communications and a M.S. in Radio and Television News from the University of Illinois, Champaign-Urbana. After he was drafted into the U. S. Army during the Vietnam War, he became an army journalist and radio newscaster at Fort Lewis, Washington. Following his military service, Bluck worked as an award-winning news film cameraman for the ABC television affiliate in Washington, D. C. He also played records on the ABC network radio stations in Washington, WMAL-AM and FM.
Later, Bluck joined NASA, where he worked in the Educational Services Office at the Lewis Research Center in Cleveland, Ohio. There he started the first-ever distribution of NASA films on videotape to television stations, cable television, and schools nationwide. He also produced many 13-week TV series about NASA which were shown on about 60 public television stations across the country each week. These programs were later translated into a half dozen languages and distributed worldwide.
After Bluck transferred to the NASA Ames Research Center in Mountain View, CA, he headed the Imaging Technology Branch. There he was responsible for the center's imaging needs in photography, television, and video-conferencing. In addition, he was also responsible for documentation of Space Shuttle landings at Dryden Flight Research Center at Edwards Air Force Base, CA. Later, as a Public Affairs Officer at Ames, he wrote some 500 press releases as well as magazine and newspaper articles and scripts.
Now retired from NASA, Bluck is looking for a publisher for his first science fiction novel. He is also writing a sequel to his first novel.