Violet Carr Moore achieved her goal of becoming a published author with her first book, In the Right Place: A Gallery of Treasured Moments. She followed that collection of mystic vignettes with Moments of Meditation, a collection of devotionals. Violet's short stories have been published in Chicken Soup for the Soul: Devotional Stories for Mothers; Christmas Miracles; Written Across the Genres; Voices of the Valley: First Press and Encore, and multiple Las Positas College anthologies. Her most recent book, Double Take, a memoir of childhood years, is co-authored with her twin. Violet's winning haiku appeared in Bay Area News Group printed and online newspapers. She is a guest writer for Roseville Genealogical Society newsletter and a featured devotional contributor to More to Life Today.
Violet is the website and publicity editor for Tri-Valley Writers (TVW). Her past TVW efforts include president, vice president, webmaster, newsletter editor, facilitator of the short-story online Feedback critique committee, and copyeditor for multiple anthologies. She received the 2013 Jack London Award for her volunteer service.
Beyond writing, Violet is a manuscript editor. She mentors authors in independent publishing. She blogs writing tips with a touch of humor at Violet's Vibes. Connect with her on LinkedIn. Visit her website Carr Twins & Co.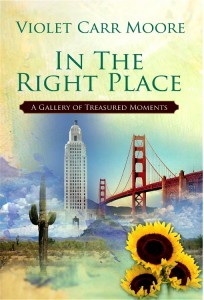 In The Right Place, a Gallery of Treasured Moments, is an art gallery of word paintings. Each short story, a canvas, tells of a memorable life event etched into time. Walk through the gallery rooms of Desert Drawings, Indelible Inkspots, and Watercolor Wisps. Rest in the Chapel with sixty one-minute devotionals.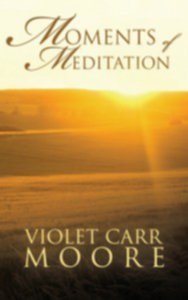 Moments of Meditation is a devotional collection that "creates a mental picture of spiritual precepts with just a few words of inspiration." These reflections will energize your mornings and provide quiet reflections for peaceful evenings. 
Double Take is a memoir by Vi Parsons and Violet Moore, the Carr Twins, recounting memories of growing up in the agricultural San Joaquin Valley. From a shared birth in an Arizona tent camp to a shared wedding gown in Chowchilla, California, these stories are told in the simplicity that surrounded them for two decades.
Books available from Amazon and Carr Twins & Co.