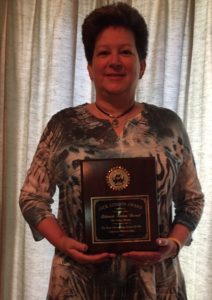 On July 23, Deborah 'Jordan' Bernal received the California Writers Club Jack London Award in appreciation and gratitude for her many years of exemplary service to Tri-Valley Writers (TVW).
Jordan has served as TVW president (2014-2016), vice-president (2012-2014), NorCal rep, and membership chair. Her vision includes extensive outreach to the community. She was instrumental in TVW's involvement with Open Mic nights, which she currently hosts, and chaired TVW's second writers conference in 2017. She worked tirelessly on two successful Alameda County Arts Commission grants, has strongly supported NorCal, and increased TVW's visibility at the San Francisco Writers Conference. Jordan assisted with the branch transition to MRMS, the CWC online member record-keeping system. She helps maintain the website, and creates training aids  for others.  Jordan supports other TVW members' visions and writing efforts. Her organizational skills and generous donations of time and creativity have increased the professionalism of TVW.
Before taking on the challenge of novel and poetry writing, Jordan worked in the electronics industry as a technician, assistant engineer, and technical writer. She holds an A.A.S. in Electronic Engineering and a B.S. in Business Entrepreneurship from CSU East Bay.
In 2013, Jordan published her first novel, The Keepers of Éire, a dragon fantasy that encourages adult readers to let their imaginations take flight, through her independent press, Dragon Wing Publishing. The Keepers of Éire is a 2104 Global Ebook Gold Award Winner and a BellaOnline Ebook Gold Winner. In January 2017, Jordan released a YA edition of The Keepers of Éire. She has recently completed a middle-grade spin-off novel, Reluctant Paladin.
Jordan's work has appeared in several anthologies.  She also writes short stories, essays and poetry. When not writing, she enjoys reading, traveling, photography, and spending time with Roarke, her Pomeranian.