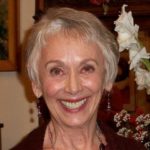 Join us Saturday, June 17, 2017, at 2:00 p.m. at the Four Points by Sheraton, 5115 Hopyard Road, Pleasanton, as Kate Farrell presents "A New Age of Fire: Storytelling & Public Speaking."
Ms. Farrell believes in the power of story and of the story motifs from the oral tradition. Their enduring appeal continues to shape and influence culture.
Farrell edited the anthology, Wisdom Has a Voice: Every Daughter's Memories of Mother. She is co-editor of the anthology, Times They Were A-Changing: Women Remember the 60s & 70s, a finalist for Foreword Reviews 2014 Book of the Year Award and 2014 Indie Excellence Award. She is also co-editor of the anthology, Cry of the Nightbird: Writers Against Domestic Violence, a finalist for the 2015 Next Generation Indie Book Award and the 2015 Indie Excellence Award.
Ferrell founded the Word Weaving Storytelling Project, in collaboration with the California State Department of Education funded by grants from Zellerbach Family Fund, San Francisco, 1979-1991, to train educators at all levels, and published numerous educational materials.
She is Immediate Past President of the San Francisco Chapter of the Women's National Book Association, a member of the Story Circle Network and of CWC Redwood Branch. Ferrell is a graduate of the School of Library and Information Studies, UC Berkeley. She has been a language arts classroom teacher (pre-school and grades kindergarten through 12th), author, librarian, university lecturer, and storyteller in Northern California since 1966. Ferrell is currently employed as a mentor teacher librarian in San Francisco Unified School District.
Visit her website Wonder Woman Tales.