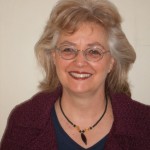 Now that the weather is better, I find myself away from the computer more often. The writing projects lined up on my desk are gathering dust, metaphorically and literally. I wasn't quite at the point of despair because the weather is beautiful, but the nagging voice in my head was getting louder. Then, on a trip to Sausalito, I noticed this alley.
This isn't the landscape I usually write about, but something about the light glinting off the lamp and the steep stairs caught my imagination. Since I write science fiction, there's a better than average chance the lamp post turns into a creature bio-engineered to stand watch over city streets, but my heroine won't realize this until she gets bitten for loitering.
It occurred to me that any writer could use vacation time to collect images for stories. While everyone else is taking pictures of food and family, you could snap a few dark corners for your mystery novel, odd leaves or flowers for your romance story, or architectural details for your gritty urban crime series. To get you started, use the photo of the alley as a writing prompt. Post your 25-word opening lines to a story or a chapter in the comment section of this blog. Who knows where those stairs could take you?