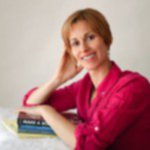 Jordan Rosenfeld, author, editor, and writing teacher, will present a three-hour, hands-on workshop, "Get Intimate With Your Characters: Master Point of View For Dazzling Character Development."  Join us on Saturday, October 21, 2017 at 2:00 p.m. at the Four Points by Sheraton, 5115 Hopyard Road, Pleasanton, for this special event. The workshop will take place from 2:00 p.m. – 5:00 p.m., with check-in beginning at 1:30 p.m. Event pricing: TVW, CWC adult members $15, student members (with ID) $8, nonmember adults $20, nonmember students (with ID) $12. Payable by PayPal in advance (see "Buy Now" button on this page). Cash and checks accepted at the door.
What makes those books you can't put down until your eyelids are sandy and your brain is buzzing, compelling? Unforgettable, unique characters. Mastery of Point of View (POV) allows readers to engage intimately with characters and dive deep into your stories. Strong POV and fabulous character development go hand in hand.
Writers in this workshop will:
Unlock the essentials of each POV
Learn to use perceptual, sensory, and other key "cues" to reveal character
Determine which POV is right for your project
Notice when you are POV jumping and learn to correct this
Discover secrets of simple character development
Attendees please:
Bring something to write with (computer or good old-fashioned pen and paper)
Come with a project idea or work in progress
Think about your character development strengths and weaknesses in advance
Rosenfeld, as an editor and author, understands the writing process from both points of view. She has written suspense novels as well as writing guides. Information about Rosenfeld, her books, and editing services can be found on her website.
Rosenfeld is the author of the suspense novels Women in Red, Forged in Grace, and Night Oracle as well as the writing guides Writing Deep Scenes: Plotting Your Story Through Action, Emotion & Theme; A Writer's Guide to Persistence: How to Create a Lasting & Productive Writing Practice; Make a Scene: Crafting a Powerful Story One Scene at a Time; and, with Rebecca Lawton, Write Free: Attracting the Creative Life–soon to have a second edition.
Rosenfeld's work has appeared in The Atlantic, GOOD, The Daily Beast, Mental Floss, New York Magazine, The New York Times, Pacific Standard, The Rumpus, Salon, The Washington Post, Writer's Digest magazine. and more.