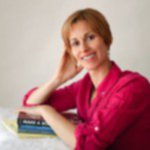 Jordan Rosenfeld, author, editor, and writing teacher, will present a three-hour workshop on character and point of view based on her newest book, Writing the Intimate Character: Create Unique, Compelling Characters Through Mastery of Point of View.  Join us on Saturday, October 21, 2017 at 2:00 p.m. at the Four Points by Sheraton, 5115 Hopyard Road, Pleasanton, for this hands-on workshop.
Rosenfeld as an editor and author understands the writing process from both points of view and has written suspense novels as well as writing guides. Information about Rosenfeld, her books, and editing services can be found on her website.
Rosenfeld is the author of the suspense novels Women in Red, Forged in Grace, and Night Oracle as well as the writing guides Writing Deep Scenes: Plotting Your Story Through Action, Emotion & Theme; A Writer's Guide to Persistence: How to Create a Lasting & Productive Writing Practice; Make a Scene: Crafting a Powerful Story One Scene at a Time; and, with Rebecca Lawton, Write Free: Attracting the Creative Life–soon to have a second edition.
Rosenfeld's work has appeared in The Atlantic, GOOD, The Daily Beast, Mental Floss, New York Magazine, The New York Times, Pacific Standard, The Rumpus, Salon, The Washington Post, Writer's Digest magazine and more.